Prioritise the optimisation of your content
Prioritise the optimisation of your content
April 27, 2022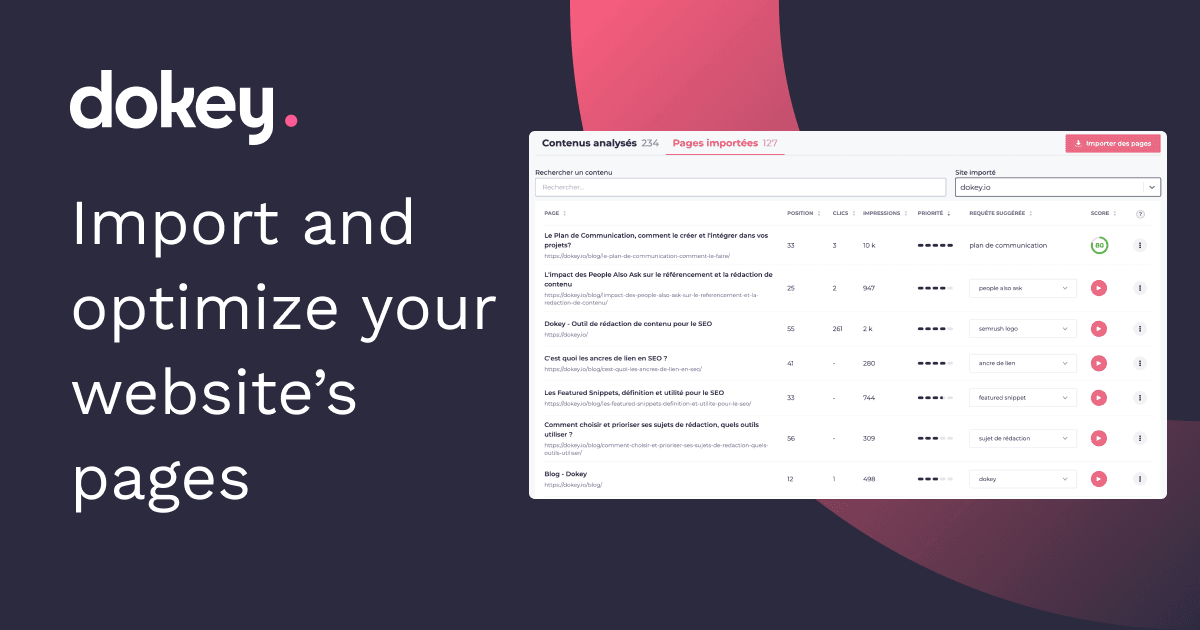 As you know, Dokey is a tool that keeps on developing and acquiring new features, for your greatest pleasure! Today, we unveil the new features for April:
Importing pages
Automatic synchronisation
Suggesting internal links
Importing pages
The first feature allows you to import the pages of your site directly into Dokey. The content and KPIs of the pages that generate the most clicks on your website are retrieved (100 pages for the Personal subscription; 400 pages for the Team subscription). Using the information retrieved, a prioritisation index is then calculated to guide you in prioritising existing articles. In other words, you are told which pages, and therefore which articles, to optimise first.
Dokey also suggests ideas for queries related to your content. You can then click on the arrows in the "score" column to run an analysis on the query you have chosen.
Automatic synchronisation
Our second new feature will be the automatic synchronisation of added pages. Available only for Team subscriptions, the synchronisation will be done automatically every week. This means that new pages added to your site will be visible in your list of imported pages.
Suggesting internal links
The third feature that comes with the import allows you to list the pages that best match the selected text and insert the URL of the page. Dokey saves you time by selecting the pages to link to in your content.
Il ne vous reste plus qu'à tester nos nouvelles fonctionnalités à présent ! On attends bien sûr tous vos retours sur cette nouvelle version de Dokey, en espérant qu'elle vous aide dans votre rédaction ! 🚀